Jolimont Warrior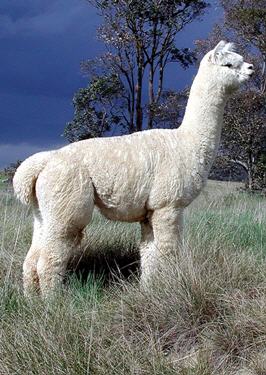 Warrior, a solid white son of Jolimont Conquistador, is the sire of Banksia Park Khan ET, the Supreme Champion of the AAA National Show in 2005 that later sold for a record A$170,000 to a Western Australian syndicate. Warrior is, without a doubt, currently the most influential alpaca in Australia.
It seemed that Warrior's reputation had reached its zenith when his son, Blue Grass Centurion, won the national title in 2003. But, twelve months later, Warrior himself took out that title, as well as the Supreme Championships at both the Sydney and Melbourne Royal Shows in a stellar year. His first progeny appeared in 2003, and they have been winning major events ever since.
Warrior's success comes down to a combination of ability and hard labours. He certainly has had plenty of opportunities, for he has 535 registered progeny at the time of writing, and the sheer hard work of owner Chris Williams, in criss-crossing Australia with Warrior and others in tow, means breeders across the country have ready access to this outstanding male.
Warrior was bred by Pat Viceconte's Jolimont Alpacas and, after being named Champion Intermediate Male at the 2000 National Show, was a late wild card entry into the National auction that year, selling for $125,000 to Blue Grass Alpacas in New South Wales. Fittingly, he arrived at Blue Grass in the back seat of a chauffeur-driven limousine, accompanied by a dinner-suited vendor. In 2002, he was sold again – privately - for a reported $165,000, to the partnership that currently owns him.