Ringmaster
Encantador RingMaster
IAR 118200
DOB 18/05/2008
Sire:Blue Grass Centurion (LF)
Grandsire:Jolimont Warrior (SW)
Dam:Encantador Show Girl (SLF)
Granddam:Encantador Giselle (W)

Ring Master brings a new mix of genetics to Regal House. His sire was the 2003 National Supreme Champion and 5x Supreme Champion and 4x Supreme Fleece Champion. On his 7th shearing his fleece results came in with a 20.8 micron fleece with SD4.2 and CV20.1%. Ring Master's dam has been a show winner herself and is from a family of show winners. Her 6th shearing had a micron of 20.7, SD3.8 and CV18.3. Ring Master is obviously following through the family tradition of fine fleece with a fabulous lustre displaying a well aligned high frequency crimp - just stunning!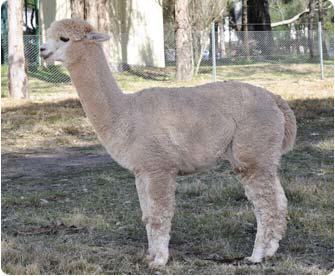 Alpaka Encantador Ring Master
Show Erfolge
1st - Intermediate Fawn Male - AAA National Show 2009
1st - Intermediate Fawn Male - Perth Royal Show 2009
2nd - Intermediate Fawn Male - Canning Vale (WA) 2009
3rd - Adult Fawn Male - Sydney Royal 2010
1st - Fleece - Sydney Royal 2010
2nd - Adult Fawn Male - Hawkesbury Show 2010
1st - Fleece - Hawkesbury Show 2010